Protecting your phone and other mobile devices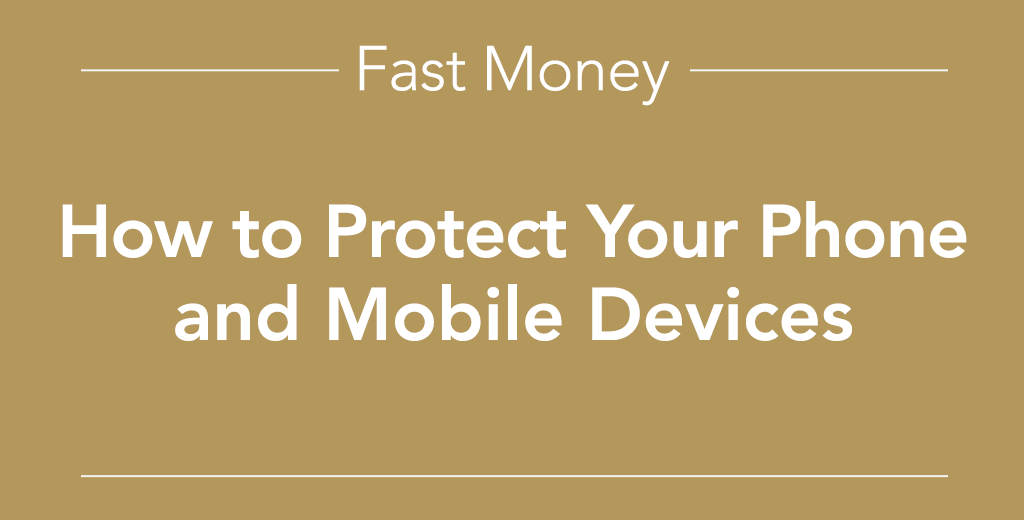 You probably already know how important it is to protect your identity online. But one of the most important ways you can protect your data and your identity is sitting in the palm of your hand – or maybe in your pocket.
Smartphones and other mobile devices contain a lot of sensitive information. Because they are small and portable, they are easy for others to steal or for you to misplace. Protecting your identity and your privacy starts with securing these devices. The good news is that there are simple, common-sense steps that you can take. Most devices come with robust security features built right in. Here's a quick look at 9 simple things you can do to protect your device.
9 Simple Ways to Protect Your Mobile Devices and Your Identity
1- Lock your phone or device with a PIN. And use the longest PIN available on the device. Many iPhones and Androids also include a "self-destruct" feature. This feature will delete all data when someone enters the wrong PIN too many times. Enable this feature and set up your device to backup data to iCloud, Google Drive, or another cloud service. That way, you can still access your files, photos, and data if your device is accidentally erased by a young child or mischievous friend.
2- Enable 'Find My iPhone' or Google's 'Find My Device'. This will allow you to locate, lock and erase your device. You can even post a message on your device so someone can contact you and return it. You can also ring your device if you misplaced it nearby. If your device is stolen, use this feature to erase your device, but don't try to retrieve it on your own. There's no sense risking your safety for a phone.
3 - Regularly update your software. We know updates can be a nuisance. But they're nothing compared to trying to deal with identity theft. Take the time to update your software when prompted. These updates contain security patches that protect your devices from newly discovered threats. If your software isn't up to date, your device and your data aren't secure.
4- Enable two-factor authentication. Two-factor authentication means that you cannot log into a new device without having access to another device you already own. A common example is when you have to enter a code sent to your phone before logging into a new account. Two-factor authentication is one of the best ways to protect your accounts. Activate it whenever you have the option to do so.
5- Never jailbreak your iPhone or iPad or root your Android. Jailbreaking and rooting are popular with some advanced users who want more control over their devices. These activities remove manufacturer restrictions on how the device operates and what software can run on the device. But they also void your warranty and disable many of the security features designed to protect you.
6- Avoid accessing sensitive information on public WiFi. These networks are easy to hack. If you are out and about, use your phone's data network when possible. If you have to log on to public WiFi, avoid accessing bank accounts or entering personal information.
7- Use your own chargers. Hackers can replace the cables at public charging stations with new cables that steal your device's data or install viruses. That's why it's a good idea to bring your own charger and cables when traveling.
8- Don't use the same password for everything. Hackers frequently steal usernames and passwords from companies. If yours gets stolen, you might not even know it. If you are using the same username and password for everything, hackers can steal a skeleton key to unlock your digital life. Use unique passwords for accounts that contain sensitive information or valuable assets.
9 - Finally, consider an identity restoration and phone protection plan. Identity restoration helps protect you even if your personal information falls into the wrong hands. Pinnacle Bank's Diamond Secure Account provides valuable financial features and also includes IDProtect®, which provides identity theft expense reimbursement coverage, identity theft resolution services, and credit and identity monitoring to detect and help stop fraud. Diamond Secure Accounts also include up to $300 of cell phone coverage to reimburse the cost of repairing or replacing your lost device, along with other valuable financial features.
Get peace-of-mind about your phone and your identity
Open a Diamond Secure Checking Account today.